I'm on vajay-tion.
Okay, so it's not directly related to my "vajayjay." That's the only word that could fit with "vacation." My name is Autumn and I have endometriosis. I'm recovering from the third surgery I've had in 9 months to treat it and I'm hoping it's my last.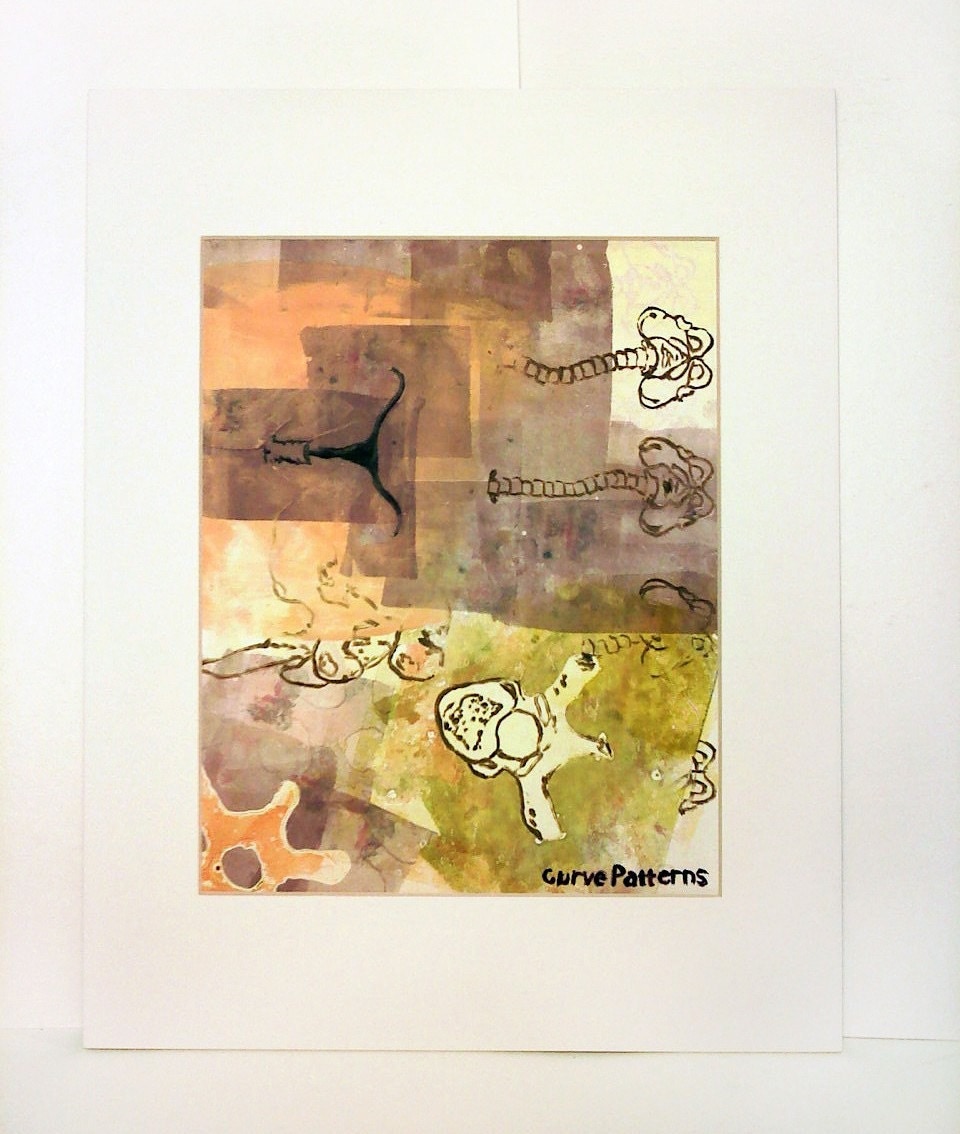 Curve Patterns monotype print by SmidgeonPress on Etsy
Some of you may be thinking (that is, if you could get past the title) "TMI." When it comes to health, there is never too much information in my opinion. I want to share my endometriosis story because I want girls and women with this condition to know that they are not alone. If I can comfort one person with this post (and hopefully make a few prudes blush) it will be worth it. There should be no shame in having endometriosis! No one asks for it and you should not feel embarrassed talking about it. If other people are uncomfortable talking about reproductive organs, that is their problem, not yours.
According to the U.S. Library of Medecine's website,
endometriosis
is a female health disorder that occurs when cells from the lining of the uterus grow in other areas of the body. This can lead to pain, irregular bleeding, and infertility.
Last June, I had a
diagnostic laparoscopy
to see if the unbearable pain and heavy bleeding I've endured since my first period was in fact, endometriosis.
You cannot and do not have endometriosis if you have not had a diagnositic laparoscopy.
I cannot tell you how many women have told me, "Oh, I have that" or "I had that until I had my first baby." Um, no. Your doctor can speculate but he cannot diagnose you with endo unless he looks directly into your abdomen . . . and a doctor can only do that though a diagnostic laparoscopy. Think of it as an initiation to a club, only no one wants to be in it. I like to think of it as a kind of Sorting Hat like in "Harry Potter" . . . only you're unconscious and on a gurney. Sure enough, my doctor found some tissue ("Gryffindorrrrr!"), though not a lot. He cautherized what he saw and that was that. I went home the same day.
Two months later, the bleeding and pain got worse. Much worse. I wound up in the ER (biggest waste of time EVER). My doctor said I probably needed a hysterectomy. A part of me knew this was coming. Though I'm no Michelle Duggar, it was still an emotionally painful decision. I don't really like to talk about it. It was the right thing to do but that didn't make it any easier. In October 2011, I had a hysterectomy. My doctor performed a supercervical hysterectomy, meaning, he left my cervix in. He claimed it would be easier for me to recover. A couple of months after the surgery, I was at my endocrinologist (I have Hashimoto's Disease as well) for a checkup. When I told him my cervix was left in, he looked at me with a puzzled look. "Why on Earth would he leave your cervix in?" This was a question I would be asked several more times by different medical professionals.
After my hysterectomy, I never felt "better." I was in a constant state of pain that was increasing by the day. Finally, I decided to see a specialist. I Googled, and the first result I came to was for
Dr. Furr
. Now really, what are the odds that the first result was for a specialist in my town? I live in Chattanooga, for goodness sakes! I read up and heard lots of good things about him. I was able to get an appointment and it was a totally different experience. For example, I use a heating pad A LOT and have for years on a daily basis. As a result, my skin has a mottled, almost bruised appearance (add that with stretch marks and the 8-9 surgery scars and it's not a pretty picture). My other doctor was like, "Why does your skin look like that?" Dr. Furr took one look at my belly and said, "That's from a heating pad isn't it? You poor thing." I have never felt so relieved in my life! I knew I was in good hands.
Then he told me about the procedure I needed to have.
I needed to have my cervix removed because it was covered in endometriosis. My fallopian tubes were next and my appendix as well. Finally, I would need to have most of my abdomen scraped to "excise" the tissue. Dr. Furr said that burning endometriosis does not completely destroy it. It must be excised to remove it. He has many years of performing this specific surgery so I decided to go along with it.
It's been just over 2 weeks since that surgery. I'm still in lots of pain but believe it or not, I'm healing much faster than I did with the hysterectomy (even though my hysterectomy required 3 incisions and this past surgery required 6). I really hope and pray that this surgery will improve my quality of life. I have faith it will, but endometriosis has no cure.
For those of you with this condition or suspect you have it, here are some things I've learned in how to cope with endometriosis.
1. You are NOT alone. Millions of women suffer from this condition. Search for support groups and message boards if you feel you need extra help.
2. Be proactive and take responsibility. One of the nurses prepping me for surgery told me she has a friend with endo who had been through 28 laparoscopies and refused to change doctors. If something doesn't feel right, get a second opinion! You shouldn't feel guilty for changing doctors. It's
your
health so take control of your treatment. Many people, whether family, friends or co-workers, count on you. Take responsibility for this disease and do what you have to do to make it better. It's easy to become overwhelmed about the cost of treatment or who will step in for you if you have to have surgery. Don't let those details keep you from doing what needs to be done: getting better.
3. Ask for and accept help. This is one of the hardest ones for me. I have a four year old son and I need a lot of help to make sure he's taken care of. Whatever help you need, be willing to ask. You will be surprised at how many people have been waiting in the wings to help you.
4. You are not your illness. One of the most difficult things about a chronic illness is the loss of identity. It's hard to go from being an active person to having to rest or spend time in the hospital. In the end, life is not about what we do but who we are. Bad health can rob you of your life
only
if you let it. Avoid being the victim . . . it's a waste of energy and only burdens those around you. You are not your illness!
5. Don't compare yourself to others, for better or for worse. Your situation is unique to
you
. Everyone has trials. We don't know anyone's story except our own. Comparing will only bring you unhappiness.
6. Count your blessings. It's easy to dwell on what's wrong when you're sick. Take note of any symptoms you have, share them with your doctor and leave it at that. When you're in pain or frustrated, take a moment to relax and make a list (mentally or physically) of the great things in your life. This will give you the push you need to get through.
7. Never give up. It's very tempting, but don't do it. There is always, always a reason to keep going. If you don't do it for you, do it for someone you love.
I hope this isn't too presumptuous. I don't have a handle on this advice myself! It takes work and constant awareness to push forward when you are sick. I hope that this helps someone out there who needs it.